Hi guys! Following on from my previous post, 'Summer Style: Crop Tops,' I thought that today I would share with you some hair & beauty products that have been getting me through this lovely spell of hot weather that we have been having in England lately.
Soaring temperatures often means that our make-up is prone to sliding off and our hair becomes unruly, which are both major beauty no-nos.
Whether you are off on holiday or are just enjoying the beautiful sunshine here in this country, the products I have chosen should definitely be essentials in your beauty kit. So, here are the few key products that I have chosen... let's get started!

During the summer months, it's very important to take care of your skin by using products that contain SPF to protect us from the suns harmful rays. I love this BB cream by Maybelline because it's so light on your skin and it almost feels like you are wearing nothing on your face at all. Plus, it has SPF 30 in it too which is perfect for days when you still want to wear make-up despite the heat. BB creams are great alternatives to foundation during the summer, as wearing heavy make-up can clog your skin and cause you to sweat and eventually break out (ew!) I simply apply this product to my skin using a buffing brush and then set it with powder to make sure it doesn't slip off of my skin during the day.

This lip balm by Carmex does exactly what it says on the tin (or tube in this case.) It soothes, relieves and moisturises your lips and also leaves them with a nice glossy, sheen too. When out in the sun, many of us neglect our lips and forget to protect them in the same way that we would protect our skin with sun tan lotion. Luckily, this balm contains SPF 15 to keep your lips from burning or drying out in the sun. In addition, I love this product for it's delicious cherry flavour. Carmex also make other versions of this lip balm including Strawberry and Mint, which smell just as lovely.
Over the last few years, dry shampoo has become a cult product for so many people and I am a huge fan of Batiste in particular. Batiste can instantly refresh your hair and stop it from looking greasy inbetween washes, as it is unhealthy to wash your locks every day as it strips your hair of it's natural oils. In addition, the spray adds lots of volume to your hair and so if you have very fine or lifeless hair, you can also use this spray to add a bit of uplift to your tresses. To use this product, simply spray it on to your roots and then massage it in (you can also brush it through with a comb if needed.) This dry shampoo comes in a variation of scents (including Cherry and Blush,) so there is definitely a scent to suit everyone. I use the tropical scent which is a lovely coconut smell, which is so refreshing and it reminds me of being on holiday. Batiste also do travel mini versions of this product, which are perfect for if you are on the go and need to slip a can into your handbag.
The key to getting your make-up to stay on all day is to prep your skin using a primer. Primers mattify your skin, which decreases shine, and creates a base for the rest of your make-up. In turn, this will allow your foundation to stay on much longer than it usually would and prevent it from slipping. I love this Revlon Photo Ready primer as it also really minimises the appearance of your pores and any imperfections that you may have. Of course, high end and premium primers will probably do a much better job, but I think that this primer is so affordable and it is easily accessible in the high-street. However saying this, I would love to own a
Smashbox
primer as they are meant to be
amazing
!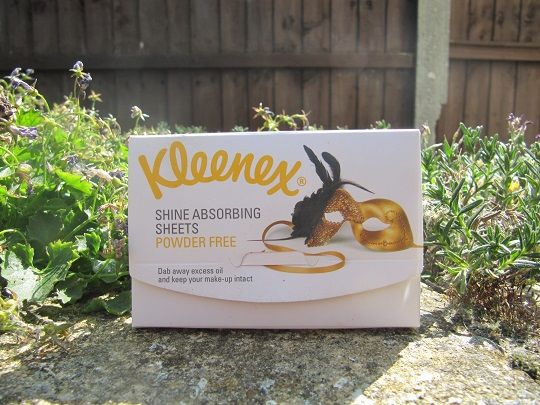 Kleenex Shine Absorbing Sheets - 99p

Last but not least, this pack of 50 blotting papers from Kleenex are so useful. Hot and humid weather often causes your skin to become a lot more oily - especially around your t-zone area. Normally, we combat shine by applying powder, but doing this several times a day is not only time consuming, but it is also bad for your skin too. Caking on layers of powder throughout the day can clog your skin and can cause a variety of problems including spots and blemishes. Instead, consider using shine absorbing sheets. They absorb the oil on your face just by you dabbing the sheet on to your face. The greatest thing about this product is that the packaging is so compact, so you can literally pop the sheets in to your handbag and you will always be prepared for when that shininess appears. I bought these sheets when they were on sale in Sainsbury's for 99p and I have since looked for them online to find the original price. Unfortunately, I cannot seem to find them on websites like Boots or Superdrug etc. I have only found them in stock on various pharmacy and beauty websites where the price seems to vary. However, there are so many brands out there that also do blotting papers which are widely available in shops and I highly recommend you give them a go!

I hope that this little essential products post has been helpful and that you have enjoyed reading about them. As always, I love reading your opinions so if you have ever used any of these products or even if you want to after reading these mini reviews, please do not hesitate to leave a comment below. Thank you :)